Welcome to Swapotron's World!
 Innovation = Creativity (Thoughts + Ideas + Imagination)
They say Imagination is Limitless. Why shouldn't it be? Its as agile as reaching the Moon quicker than a spaceship! Its as beautiful as speaking to a tree. Its as gentle as befriending a Flower! So what are you waiting for? With all your hale and hearty senses "Imagine" every moment you live to be supreme! For we just have one life. Lets be a frenzied butterfly in this nursery of The Universe.
Hope this yard nutures your creativity!
Let's get started -
Sometimes words speak louder than actions- My blog (WoW - Words of While). Watch out for the some of the amazing videos, music and fun right here!
Gallery of Delight!
Click on "Full Screen" to view each photo
My First GIF!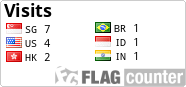 Want to suggest something, Need advice, help, want to speak to Swapotron, send a note? Don't forget to check the "Contact" tab right above this page. Thank You!